Mission Ignitions WeaponX ignition modules kicks up the fire in your combustion chamber. For use with stand alone engine management systems OR vehicles that require an ignition coil with an igniter our igniter allows aftermarket engine management systems and OEM systems to seamlessly integrate with all of our ignition coils.
Devices have a lifetime warranty and are plug and play for standard BOSCH ignition modules.
Meant to compete with FAST, AEM, BOSCH or other similar ignition modules, our units come non current limited up to 12 amperes per channel, where BOSCH units are typically current limited to 7.5amps.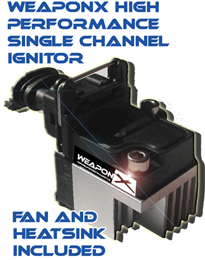 With the performance and reliability you expect from Mission Ignition Systems, we have also designed our WeaponX Ignition modules to product against high voltage, reverse polarity and thermal overload.
Our single channel unit can also be ordered with an optional heatsink / fan cooling unit for high amperage applications and supplies a thermal paste compound which allows the WeaponX system to work at an ideal operational temperature for enhanced performance and extended operation. This enhances precision, and allows for greater output over standard designs.
Mission Ignition Systems is the only company to provide these modules in a UNRESTRICTED package unleashing all of the energy into the spark event. Most common (ie BOSCH) smart coil drivers and external igniters come with current limiting preventing high output performance.
Mission Ignition Systems WeaponX modules allow for smoother engine response, higher output, and efficiency.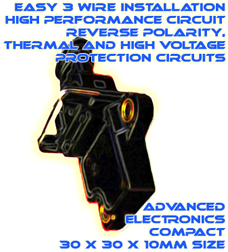 WeaponX igniter FEATURES:
- up to 40kV voltage capable*
- up to 12.5amps current output*
- up to four channels per unit*
- bolt on design for our coil on plug two wire coils*
- thermal protection circuitry
- specially designed heatsink / fan unit for extended amperage capabilities (fan waterproofed)*
- thermal paste included for perfect heat transfer to heatsink
- high voltage protection circuitry
- reverse polarity protection circuitry
- quality conductor selections
- stabilizes and monitors voltage output
- ultra efficient power transfer and design
- pins connectors and seals all included
- high rpm capability
- high voltage clamp circuit
- lifetime warranty
< See TaKAI IGNITION MODULES -or- See NeXT Gen IGNITION MODULES >