Mission ignitions TaKAI line of Igniters (Ignition modules) out perform similar units provided by McLaren or Motec.
Capable of unleashing 30 amperes per channel with a 50 amp burst output per channel, at unprecedented accuracy, our TaKAI ignition modules are the best value when it comes to performance, reliability and price. Our lifetime warranty guarantees it.
If you demand the best performing components for your motorsports application, there is no other unit that can compete at this price point.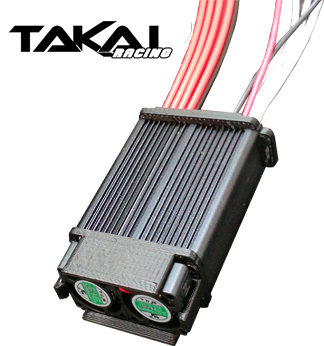 TaKAI Igniter Module FEATURES:
- up to four channels
- allow up to 80kV output
- 30 amperes continuous per channel
- 50 amperes burst output per channel
- 5x faster response time than typical ignition modules
- advanced PCB SMD design to support high current input and output power
- thermal protection circuitry
- high voltage protection circuitry
- reverse polarity protection circuitry
- quality conductor selections
- stabilizes and monitors voltage and current output
- ultra efficient power transfer and design
- pins connectors and seals all included
- high rpm capability
- compact size
- 50% lower noise output then competitor units allowing for more accurate ECU performance
- lifetime warranty
< See WEAPONX IGNITION MODULES -or- See NeXT Gen IGNITION MODULES >


Learn more or purchase TaKAI Series Ignition Modules