Unlike all other companies, Mission Ignition Systems is not a marketing company, we are an engineering firm that develops, designs, produces and fully understands performance ignition components. Mission Ignition Systems develops rocket thruster, flare stack, race, and performance automotive ignition systems from scratch depending on our customers needs.
Mission Ignition Systems are the only advanced ignition application specialists in the world who understand the in depth the performance and ignition parameters needed for proper ignition performance and is the only company to offer customers proven, tested state of the art ignition components.
Mission Ignition Systems takes a ground up approach in any project and below is one such example. Our WeaponX v10, 10th generation Ford Modular ignition coils offers performance benefits unseen with other mass production competitors.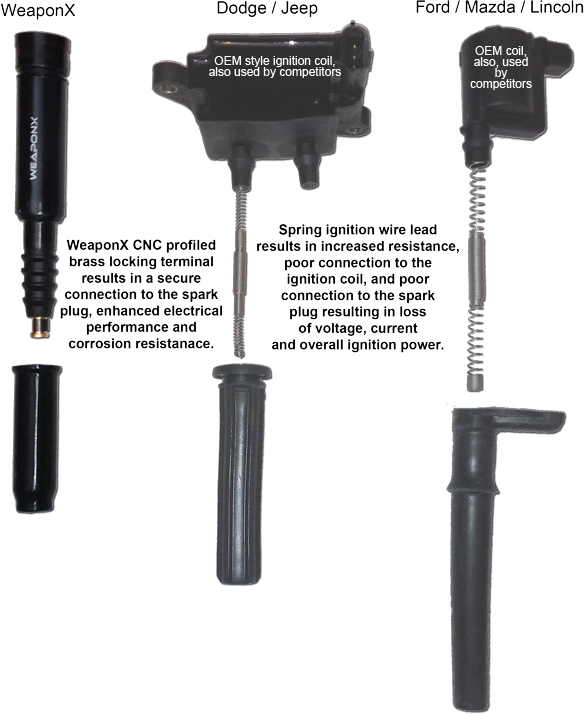 While competitors typically copy the OEM design,the WeaponX lineup starts from the ground up by optimizing the position of the ignition components, removing unnecessary wires and interconnects to provide a direct energy path to the spark plug. In the examples shown you can see what many people refer to as "coil on plug" units. In the above Dodge and Ford examples, these coil on plug units are actually coil NEAR plug units because of the poor conducting metal spring interconnects. Essentially these are poorly connected ignition wires placed between the ignition coil and the spark plug, a design stolen, and copied by Ford in their latest generation engines... the utmost form of flattery.
Even Ford engineers scoffed at the idea Mission Ignition Systems product was superior to theirs in every way, until Shelby American was forced to use our product in the Shelby 1000 to surpass their horsepower needs.
Items such as interconnects connect loosely to the spark plug, and to the ignition coil creating resistance in the circuit. These resistance's become a big problem at high voltage levels reducing ignition current and energy at the spark gap, and reduce the reliability of the ignition events.
WeaponX ignition coils removes these high resistance paths by creating a high performance, direct connection from the power stage of the ignition coil to the terminal of the spark plug using a highly secure, highly conductive CNC profiled connector which connects directly to the power output stage of the ignition coil. This connector also locks the ignition coil into place removing the need to bolt the ignition coil into place.
To find out more about our performance ignition coils vs others, check out our PDF which documents many of the performance benefits vs our competitor components.
IGNITION COIL TECHNICAL MANUAL : Full technical documentation on our ignition coil lineup.