Breaking records!!
Mission Ignition Systems WeaponX coils drove Andy Bowman's Mustang to a new track record of 1:59.7 at Buttonwilliow raceway in 95 degree weather! The previous best being 2:00:03, in the NASA circuit!
20 plus dyno pulls to test and tune. The stock coils, Motorcraft plugs and competitor ignition plasma booster were dyno tuned in for approx 385RWHP / 385RQTQ on a fully built naturally aspirated Ford Modular 4V engine. Typically the combination is good for approx 12-15 rwhp/rwtq over the stock setup.
Next the aftermarket plasma ignition booster was removed and the OEM coils were swapped with Mission Ignition Systems WeaponX coils. Runs were done 30 minutes apart. Dialed in with the WeaponX coils, horsepower jumped from 385RQHP, 359RWTRQ to 396RWHP and 368RWTQ. A net improvement of 11 RWHP and 9 RQTQ over the stock ignition system with the WeaponX Plasma Ignition Amplifier!
The comments were as follows. " We have found over stock ignition systems, the competitor plasma ignition system with stock coils is typically good for 12 - 15 RWHP/RWTQ. Therefore, our tests here appear with the WeaponX system there is a 20 - 24 RWHP / RWTQ improvement over the stock system on our engine combination.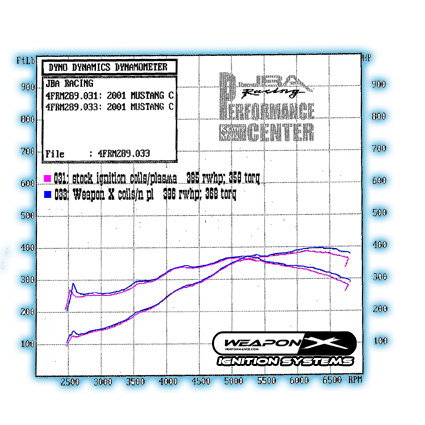 The data sheets and dyno sheets show that the WeaponX coils really perform at higher RPM's, 4500 to 7000 and improvements begin starting at as low as 4000rpm. They definitely worked... it's not that often that we feel this confident about a product and how well it works but after an exhaustive effort dynoing and tuning for 2 full days we are very confident about the WeaponX coils and spark plugs. For the money and the gains experienced with the WeaponX coils and plugs falls right in line with most other high end products in the market such as our high end JBA exhaust systems. For the hp vs cost they are definitely a great upgrade."
Andy Bowman
JBAracing.com provides exceptional exhaust equipment and uses WeaponX equipment for their own professional SCCA racer with great results earning a second overall their first year in competition!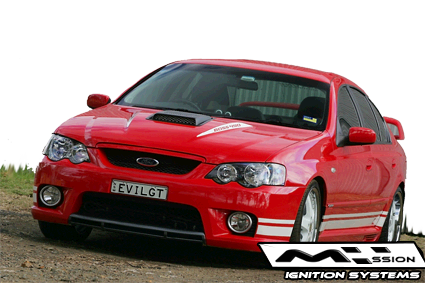 Superior Quality and Performance!

Success after success our WeaponX coils show their prowess on the 32V Australian
built Ford Falcon supercharged 32V engine. Smooth and quick engine response and improved power across the board!
"All the goodies arrived this afternoon and within 5 minutes I was down at Intune Motorsports! What can I say the products are very impressive and the coil covers look fantastic. Everyone from Intune commented on just how well the product has been manufactured.
The dyno chart is a straight before and after - simply installed the WeaponX coils and spark plugs - no retune - and did 4 runs to be sure and consistent with the heat soak and the result were gains across the entire rev range. Where they really make a difference is around 4,000rpm. Net gain was about 10rwhp and 22rwtq!!!! The car sounds better and is incredibly smooth all the way to the rev limit.... John Houlder my tuner was very impressed with the difference. The AFR's have never looked better and I'm really really happy with the result.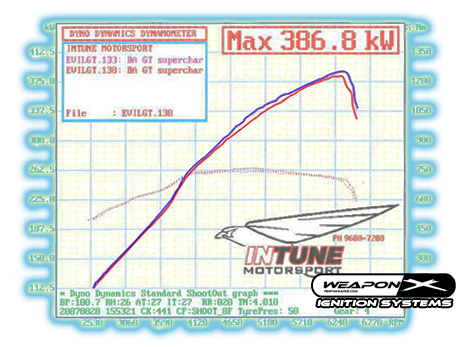 The other thing to mention is the simple driveability of the car - whilst I cannot really quantify this with figures - the coils and spark plugs have smooooothed the whole engine right across the rev range- it has always pulled extremely hard but now it seems to do so in a new way - the engine is more responsive and it feels "stronger" for want of a better word!! The car has honestly never run better.
I only drove home (5 miles) from Intune yesterday after the installation and I must say that I am very impressed!! Today I have just driven about 60 miles or so and I am now in awe to the point I dropped by my tuner to say thank you again. Love it....
So after all is said and done - great result, great products and great service.
One very happy Ford owner!!!"
Tony S.
Australia